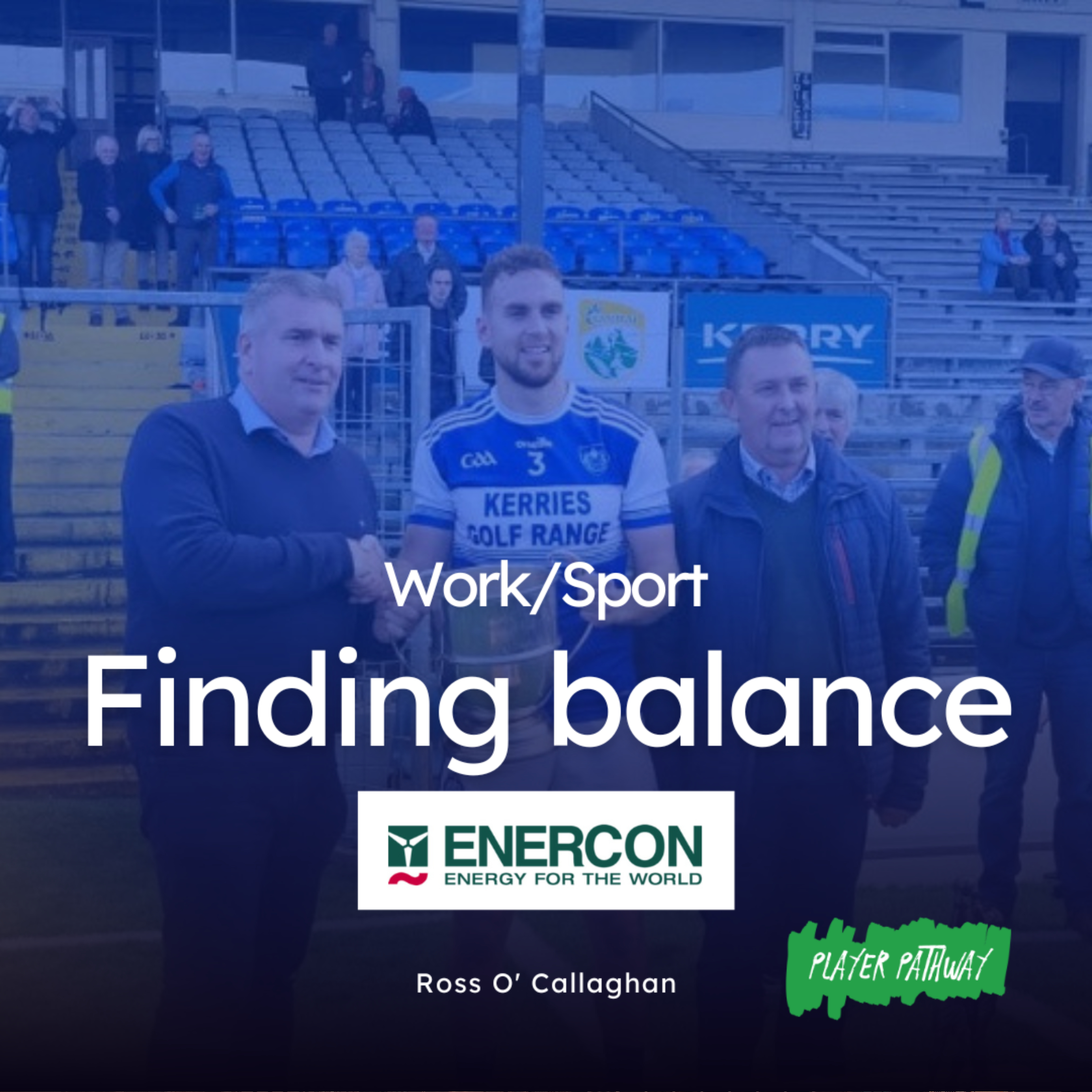 ENERCON, a pioneering wind energy technology company are hiring! (View roles here) A company who embrace Player Pathway and understand the connection between playing sport at a high level while sustaining a successful career. Just ask Kerins O Rahilly's Senior Football Team Captain Ross O' Callaghan.
Name: Ross O'Callaghan
Company: ENERCON
Industry: Wind Turbine Manufacturer / Service and Maintenance Provider
Role: Project & Commissioning Engineer
How did you start working at ENERCON?
Before starting at ENERCON seven years ago, I had a keen interest in working in the renewables industry. I knew that ENERCON was a market leader in the wind industry on the island of Ireland and across the world. The lure of working in wind energy from a project and technical perspective drew me to the company and role.
My role is a Project and Commissioning Engineer, working within a Global Project Management team. Our group are responsible for grid integration, control, grid code compliance and system services for wind farms.
What are the most important traits/skills for your job?
A combination of skills in project management and technical engineering are most important. Communication, problem solving, technical report writing, organisation skills to meet deadlines/ handle a high volume of projects are just a few skills to mention. A willingness to learn and a flexible approach to working is required as the tests we do rely on maximising wind resources when they are available.
What are the most unique aspects of your job? What do you like most about working at ENERCON?
Working for ENERCON has allowed me to grow my career in the renewable energy industry, work on international projects and travel, all while having a base in my hometown of Tralee, Co Kerry. This has given me the platform to enjoy outside interests such as being captain of Kerins O'Rahillys GAA Football Senior team and enjoying all things outdoors in the beautiful Kerry landscape.
It was great to win the County Senior Club Championship with my GAA football club this year. The demands of playing senior club football has increased immensely over the last number of years. The unique championship format within County Kerry makes any championship won with a Senior club hard earned.
My role with ENERCON offers a flexible approach and a good work life balance that allows for pastimes to be pursued. This allows me to meet any training demands required while also offering a challenging but rewarding work environment.
In this role, we have the pleasure to travel to numerous wind farm projects throughout the island of Ireland and beyond, experiencing some of the most remote countryside and terrain on offer.
It is a great feeling to be involved in integrating, contributing to grid system services and ensuring the compliant operation of significant amounts of wind energy in times where we are transitioning from our reliance on fossil fuels towards a future of clean energy.
Any advice for someone looking to get into this role?
The role is for an engineer seeking to contribute to the future of renewables by assisting in bringing technically compliant wind energy onto the electricity system. It is a complex work environment but very rewarding. The people of ENERCON are the main upside to the role and lead to a very positive workplace.