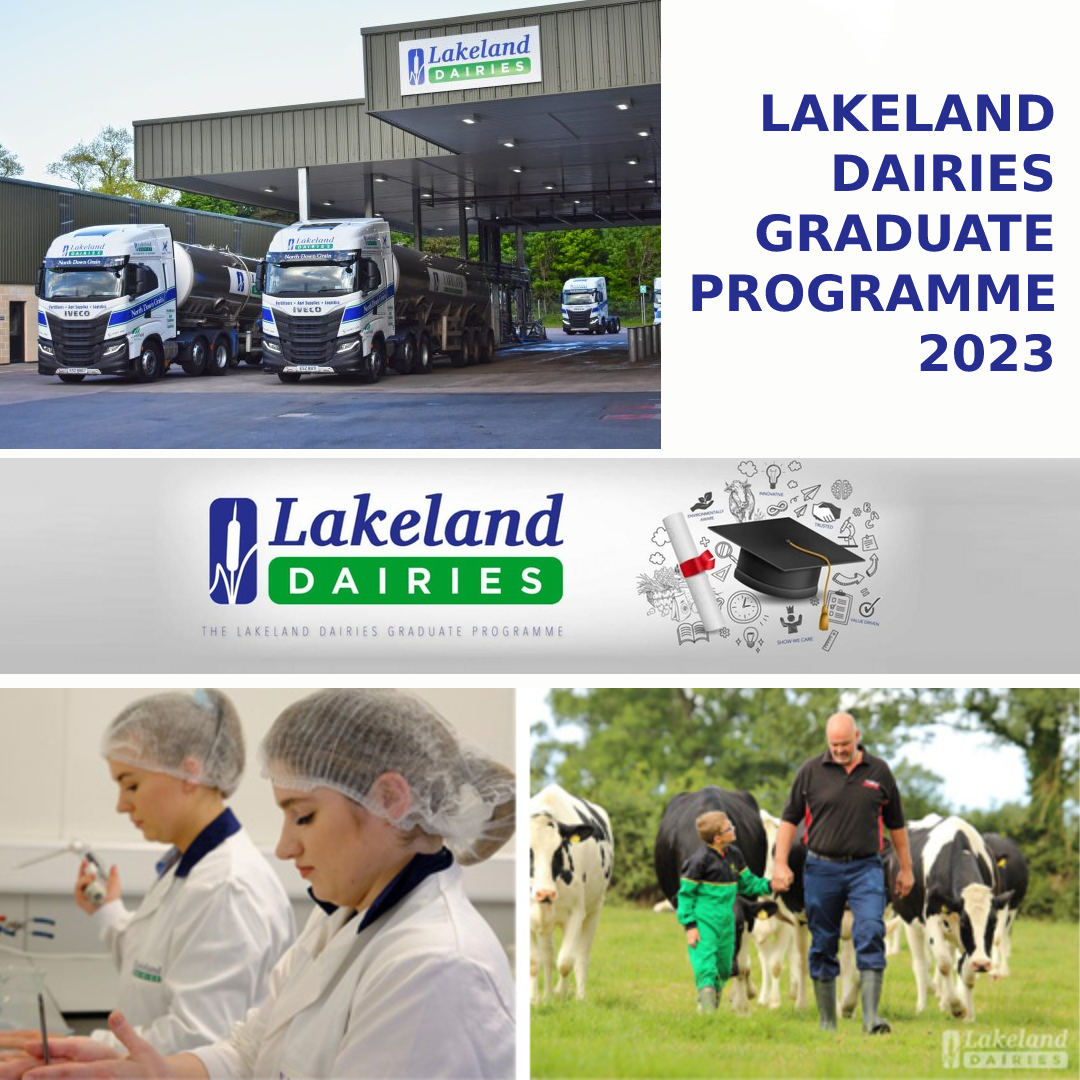 Lakeland Dairies Co-operative Society Limited (The Group) is the second largest dairy processor on the island of Ireland. The business is complex and ambitious with a milk supply pool of 2 billion litres of milk, drawn from over 3,200 family farms across 16 counties, and annual revenues of almost €2 billion in the current year.
With the most modern dairy manufacturing facilities in 8 locations on a cross border basis, the Group supplies to a broad customer base including some of the world's foremost 'blue chip' companies across the dairy food ingredients, foodservice and consumer food channels on a domestic Ireland, UK, European and global basis. Internationally we export some 240 different products to over 80 countries worldwide.
The Group's Agribusiness Division (Lakeland Agri) operates a state of the art Animal Feed Manufacturing Facility and is a leading and innovative provider of the highest quality feeds and agricultural inputs to dairy, beef and sheep farmers across the north and south of Ireland.
We employ some 1,300 employees across the Group with the majority evenly split between NI and ROI.
We are now seeking applications for the Lakeland Dairies Graduate Programme 2023.
Our Graduate Programme is specifically structured to provide graduates with the opportunity to enhance and develop their skills. The programme will include rotations, with exposure to multiple disciplines – potentially including an international rotation. These will be based over a two-year period with the opportunity for full time employment post programme – based on performance.
For further information on the Graduate Programme please contact graduates@lakeland.ie
To apply, please visit the careers section of our website at www.lakeland.ie where you will find all the details you need, along with an online application form.
The closing date for receipt of applications is 14th April 2023 (subject to change).
Please note as applications are received, they will be reviewed, and candidates will be responded to.
Lakeland Dairies Limited is an equal opportunities employer.